For the last few days, I have been in AWE of the Dior Resort show. I was like YES! Finally, a luxury brand is drawing their attention to the African continent. Yet little did I know they were, in fact, taking advantage of it. How many times are we going to have this conversation on cultural appropriation? Its 2019 and I'm tired of having to talk about this every single month! Africa is not a playground, it's a continent with real people and real talent and when are people going to realise this???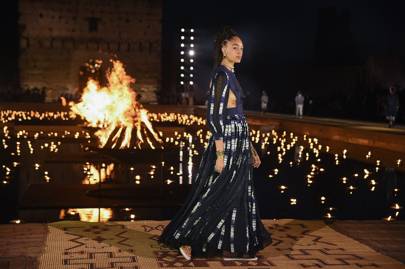 The most frustrating thing about this is that the European press (who clearly know nothing about African fashion and heritage) has been praising the brand non-stop. not telling the world the rest of the facts behind the show;
1. They called a "French" (alas colonial heritage) "expert of African textiles" but surely if this was a "celebration of African Fashion Craftsmanship why did they not hire and AFRICAN. Who knows their own heritage and is an expert in the field of textiles?
2. They decided to use the "wax print," a print adopted by Europeans from Asia and imposed on subjugated African regions from the 19th century onwards (which by the way heavily appropriated authentic traditional hand-woven textile patterns and exposed them to extinction). Bearing in mind these are NOT ACTUAL AFRICAN PRINTS, there is so much more to Africa than the wax print! It is in no way a representation of our fashion & textile "craftsmanship" heritage, but part of Europe's colonial left-overs in Africa.
3. They joined forces with @uniwaxciv a non-African owned company belonging to VliscoGroup (headquartered in the Netherlands & one of the chief benefactors of Europe's colonial predatory market policies in Africa) with a factory in Ivory Coast which continues to mine this colonial heritage to date. If they were really trying to celebrate our heritage then they would have joined forces with an AFRICAN brand in order to help fuel their economy. That makes more sense, does it not?
4. And then they got their "French expert" to be the spokesperson of millions of African women about their own fashion & cultural heritage (as has been the Western norm for centuries), through interviews with the world's media, even as Dior continues its elementary mistakes including referring to Africa as a country. There are 54 countries in Africa, how ignorant do you have to be to still refer to it as a continent in 2019?
I AM TIRED! When will this continuous distortion & misrepresentation of our heritage end? Dior in their fascination with Africa's "craftsmanship" forgot to actually speak to "Africans" who are the only people that truly know & own their heritage & narrative? There is a new generation of African designers & creatives that are continuously contributing to help change the African narrative, millions in fact and It's not that hard to find them, especially in a generation whose lives revolve around social media.
In order to count this as cultural appreciation Dior could have simply;
1. Enlisted the input of an African textile/Fashion/Art historian as a consultant on the project
2. Avoided perpetuating the stereotype and an altogether misconception that Wax print is African
3. Ensured a greater level of inclusiveness i.e more black models, designers and media outlets.
It is really as simple as that.
This is a conversation that needs to be had. The debate on cultural appropriation and cultural appreciation has been going on for too long now. The time has come to be assertive in shaping the narrative by running ahead of Western brands and telling our own stories through accurate research. We cannot be distracted by this, we need to get on and continue what we started, we have to change our narrative. The sooner we do it, the better.